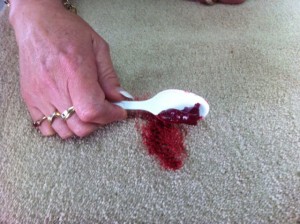 Did you know that a spoon is the tool of choice to start removing a carpet stain?
Stain Removal Guide
The four-step system of stain removal
Regular carpet care is important if you want to enjoy your carpet for many years to come. Regular vacuum cleaning is recommended at least twice per week during normal wear; this helps ensure rich, radiant colours and prevents loose dirt becoming embedded. If possible, use a brush vacuum cleaner or one with a brush attachment because, with these, even embedded dirt can be removed without trouble. However, if staining should occur please follow the four-step system below.
STEP 1  Remove loose dirt with a vacuum cleaner. Dried-in substances should first be carefully removed with a spoon or the back of a knife, then simply brushed or vacuumed out. If liquid, blot up as much as possible with absorbent white cloth or paper immediately.