Spruce Up Your Space with a New Area Rug
May 26, 2022
If the current economy has put the squeeze on your budget or any remodeling plans, you may be able to add some color or flair to a room with a new area rug.  Area rugs are enjoying renewed popularity for floor coverings this year, and they can add a nice touch without redoing an entire room.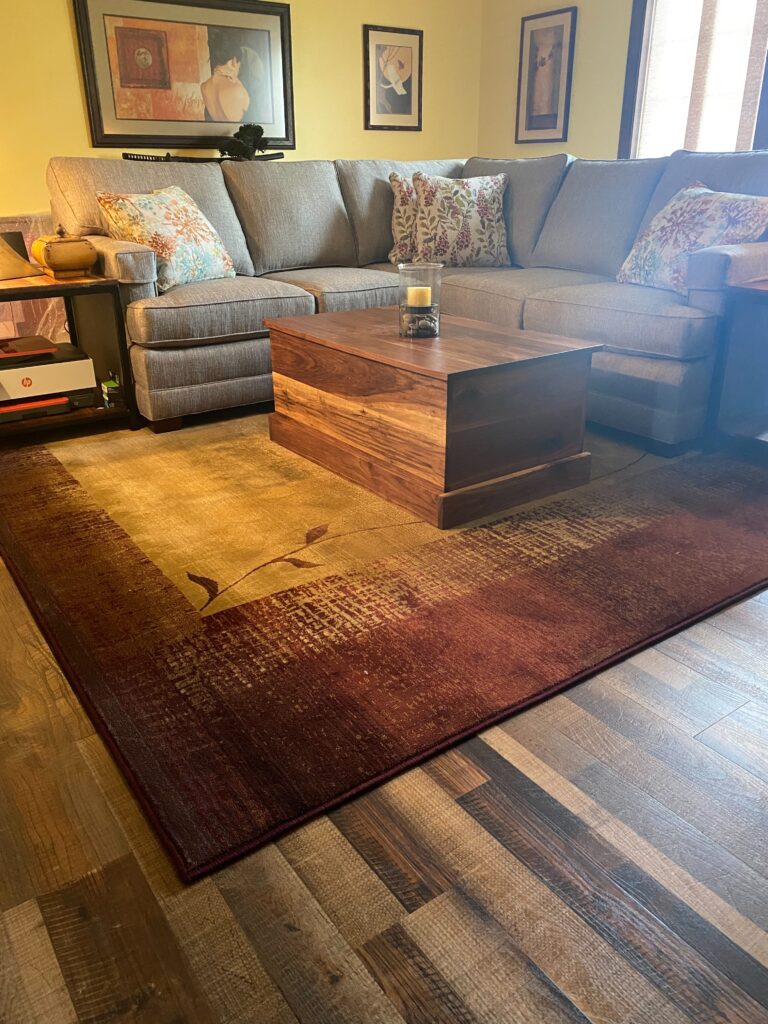 Area Rugs Trending in 2022
Area rugs come in all sizes and a wide range of materials, but here is what is trending in 2022:
Natural fibers, such as wool, cotton, and jute, continue to be popular. Wool rugs are perfect for high-traffic areas since they are resistant to dirt and stains, but you do need to follow specific cleaning instructions for them. Cotton rugs are soft and absorbent, making them workable for bathrooms and kitchens. Jute is a natural fiber that makes a beautiful rug, but it does require occasional cleaning and brushing.
Geometric patterns are big in both traditional and contemporary designs.
Blues and grays tend to be the most popular colors, but there will be pops of color too.
Braided rugs are making a bit of a comeback, as well as abstract designs.
Hand-tufted rugs will continue to be popular for their high quality and unique design.
Too Big or Too Small?
When it comes to choosing the perfect area rug for your space, size is definitely a factor that you need to consider. You want to make sure that the rug is big enough to cover the desired area, but not so big that it becomes overwhelming or takes up too much space.
A general rule of thumb for a living room or family room, for example, is to make sure your rug is at least six to eight inches wider than the sofa on both sides. Allow 30 to 36 inches of walkway between large furniture pieces, if your space is large enough, or at least 18 to 24 inches.
Then figure 10 to 18 inches from rug to wall (or possibly 24 inches if the room is large enough). Any closer to the wall, and the rug could overwhelm the space and look like "almost" wall to wall carpeting.
If you have a smaller accent rug that you want to use, maybe under a coffee table or other accent piece, you may be able to artfully place the smaller rug on top of the larger rug for a layered look.
You can measure out the size of the rug you want to buy with painter's tape to get preview of how it will look in your space.
Choosing a Rug Pad
Rug pads come in a variety of materials such as cushiony foam and felt. (Felt is the best material if you are looking to achieve some sound protection.) The backing may be made of latex or rubber to prevent slippage, but not all rug pads have this non-slip feature.
If you are looking only for a non-slip feature, choose a rug pad made of polymers, PVC, or a plant-based material. Just note that they are typically thinner and do not add thickness to the rug or sound absorption in the room.
At Etown Flooring, we recommend a felt pad if rugs are being placed on hardwood and luxury vinyl sheet flooring. Rubber/latex on top of these floor coverings can have the tendency to mark the floor. Rubber or felt padding is acceptable for luxury vinyl plank or ceramic flooring.
You can also find special features in some rug pads, such as a hypoallergenic if you have family members with allergies. A rug pad with mold and mildew protection works well in a damp environment. For the environmentally conscious consumer, there are rug pads made from plant-based oils and materials.
Care and Cleaning of Area Rugs
Most area rugs allow for DIY cleaning, unless they are delicate antique rugs, or Persian or oriental rugs. Vacuum all dust and debris before using any moisture. Use a white cotton towel for blotting any stains, to avoid color transfer.
Mild dish soap (dye-free) and diluted with water, will gently remove stains without damaging the rug fibers. Avoid using too much soap, especially on wool. A stain remover like Resolve or Zout can be used on suborn stains.
Snapshot of Key Area Rug Brands
Family owned for more than 40 years, Nourison rugs have become well-known for their modern and contemporary designs in area rugs, as well as their vast array of sizes from scatter rugs to palace size in round, square, and even octagonal shapes.
The company is vertically integrated so they oversee nearly all aspects of the manufacturing process, and are able to create products at every price point from low to mid-market to luxury. Their large inventory guarantees that products are in stock and generally ship within 24 hours.
The Colonial Mills Rug is a braided variety, but not just one type of braided rug. You will find indoor or outdoor rugs, patterns that include solids, stripes, geometric, tweed, and shapes that include oval, rectangle, round, square, and hearth/slice. Colonial's braided products also include a wide range of runners and stair treads.
A most novel product from Milliken Rug is not a rug at all, but a product called Comfortable Concrete. It is ideal for patios, pathways, and sunrooms. The company has developed a patented PrintWorksTM technology that uses fluid dyes to achieve effects and colors that cannot be achieved through pre-colored yarn.
Miilliken also has an Imagine rug collection that features practical yet fun designs for traditional indoor settings such as kitchen, dining area, and living room.
Anderson Tuftex has an extensive line of area rugs that come in standard sizes or can be customized to a specific space.
Stanton Rugs also offers a "custom rug visualizer" that enables you to view how different types of binding will look on your finished product.
Lines of area rugs from Dynamic Rugs include machine-made, shag, and handmade varieties. They also have the distinction of being almost local to central Pennsylvania, with headquarters in Frederick, Maryland, for folks who are interested in buying locally.
Safety Comes First
The most beautiful area rug will not be beautiful for long if it causes you or a family member or guest to take an unexpected fall and end up with an injury. The two biggest issues in this regard are when an area rug or runner slips or slides due to inadequate or ill-fitting padding, or when an area rug buckles.
Professionals recommend using double-sided carpet tape to firmly attach the rug to the pad by following these steps:
Start by making sure the rug itself is not buckling by rolling it out face downward and holding down the edges with heavy stacks of books. Leave it this way for hours to ensure the rug is as flat as possible.
While a rug is face down, lay out a non-skid rug pad on the back and make marks on it to allow you to cut it down to fit the rug with only an inch of overhang.
Vacuum or thoroughly sweep and clean the area where the pad and rug are to be placed
Using double-sided carpet tape, make a huge X across the bottom of the rug and also run the tape around all of the edges.
Place the rug pad where you will position the rug.
Align the rug correctly on the upward facing side of the pad and run your hands over it to ensure no buckling or warping.
Can you do this without the pad? Possibly, but experts say it is usually not as effective that way.
For the best selection of area rugs, and for all of your flooring needs, contact the professionals at Elizabethtown Flooring.
Related Articles