Baseboard Installation
Elizabethtown Flooring – Located in Lancaster County
Design | Comfort | Solutions
The Final Touches to Your Home's Upgrade
Not only do we remove old baseboard to prepare for your new flooring project, but our experts will help you to decide on the best size, style, and type of trim for your flooring type and overall room aesthetic. Our skilled team takes pride in providing exceptional craftsmanship and attention to detail, ensuring that your new baseboard is installed seamlessly and efficiently.
You just got your dream flooring, now it's time to consider our professional baseboard installation services. No new floor is complete without the elegant and high end finish of new trim. Whether you have carpet, wood, vinyl, or tile, adding new baseboard will upgrade the look and feel by bringing a cohesive and complete finish to every room.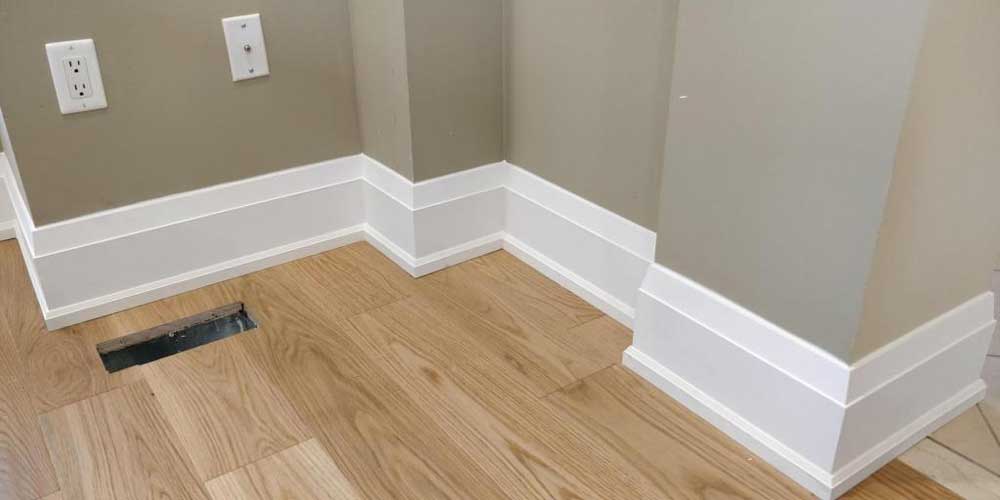 Baseboard Styles
Are you looking for a way to update the look of your home? Consider installing new baseboard! Upgrading your baseboard not only provides a finished look to your flooring but can also add a decorative touch to your home. From sleek and modern to ornate and traditional, there are numerous baseboard styles to choose from.
Some popular styles include shaker, colonial, and Victorian. Shaker baseboard is simple and clean, while the colonial baseboard has a more classic look with a beveled edge. The Victorian baseboard is the most ornate, featuring intricate details and carving. No matter which style you choose, new baseboard is an affordable and easy way to give your home a fresh new look.
Baseboard Sizes
Baseboard sizes play an important role in the overall look and feel of any room. Not only do they provide a necessary finishing touch to a space, but the right size baseboard can also add depth, character, and dimension. At Elizabethtown Flooring, we offer a wide range of baseboard sizes to fit any style or budget.
Whether you're looking for something simple and modern or ornate and traditional, we've got you covered. Our team of experts can help you choose the perfect baseboard size to complement your decor and enhance the beauty of your home. With our high-quality products and exceptional customer service, we're here to make your baseboard selection process as easy and stress-free as possible.
Baseboard Installation Process
When it comes to giving your home a sleek and finished look, one of the often-overlooked elements that can make a big difference is the baseboard. A well-installed baseboard can transform a room and give it that polished, professional look that you've always dreamed of. But getting a perfect baseboard installation takes more than just a steady hand and a little know-how; it requires the expertise of a skilled professional who can make sure every detail is just right.
That's where we come in. Our team of experts understands every step of the baseboard installation process, from measuring and cutting to fitting and finishing, and we use the finest materials and techniques to ensure that your baseboard looks beautiful, and stays beautiful for years to come. Don't settle for anything less than perfection when it comes to your home's baseboard. Trust the professionals at Elizabethtown Flooring to get the job done right.
Baseboard Installation Q & A
How much does it Cost to Install New Baseboard?
Not only does new baseboard add elegance to your living space, but it can also help protect your walls from damage. The cost of installing baseboard may vary depending on a few factors such as the type of baseboard material, the size of the room, and labor charges. Choosing a more luxurious material such as hardwood may cost you more. It's important to choose a reliable company like Elizabethtown Flooring who can give you a reasonable quote and provide a high-quality installation. Call today for a free estimate!
What if I Already Have Baseboard?
If you're renovating your home, you might be wondering if it's possible to install new baseboard over existing ones. The answer is yes. By installing new baseboard directly over the existing baseboard, you'll save yourself the hassle of removing the existing baseboard, patching up any holes or damage, and sanding the walls. However, In many cases it is best to remove old baseboard and start fresh, especially when you are replacing your flooring. By hiring us to do your flooring, and baseboards you will get a better result than simply installing flooring and baseboard with old ones in place.
Should baseboard be glued or nailed?
In some cases depending on wall surface and baseboard material (pvc), it is best to use glue. Places like kitchens, bathrooms and wetrooms will often utilize waterproof baseboard that can crack if nailed through. For wood baseboard you will typically want to use nails for longer lasting results, but you can also apply glue when using nails for extra durability. Ask our professionals for details.
How do I fill in gaps between the baseboard and the wall?
Use a caulk gun to apply a line of caulk along the gap between the baseboard and the wall. Smooth the caulk with your finger or a tool to create a seamless finish.
How do I maintain my baseboard after installation?
To maintain your baseboard, dust them regularly with a soft cloth or vacuum attachment. If they become dirty, clean them with a damp cloth and mild soap solution. You may also need to touch up any scuffs or chips with paint or wood filler.
What type of caulk is used to finish baseboard installation?
Baseboard can be a great way to add an extra element of style to your home, but if you want them to last, it's important to choose the right type of caulk. The best option for most baseboard is a flexible silicone caulk that can withstand movement and expansion. This type of caulk is waterproof and will not crack, shrink, or peel over time. Look for a caulk that is easy to apply and dries clear for a professional finish. If you're not sure which product to choose, talk to our experts. With the right caulk, your baseboard will look great and stay in place for years to come.
Do you install the baseboard or flooring down first?
When installing carpet, you will typically want to install the baseboard first for easier installation and to make sure they are level with the floor underneath. When you are having new hard flooring such as tile, laminate, vinyl, or wood, opt for installing flooring first, then installing the baseboard. This will help to leave room around the perimeter of the room for any movement of the flooring, and then conceal the gap with the trim (baseboard).
Can you remove the old baseboard without damaging the walls?
Yes, you can remove old baseboard without damaging walls, or minimizing damage if done properly. By using the right tools and having patience, you can save a lot of patch work. Our professionals can remove your old baseboard for you if you decide to move forward with us. We take care of the dirty work, so you can get the best possible finished result, without the hassle or stress.
Does a new baseboard add value to a home?
Yes! By updating the look of your home, and adding a layer of protection to the walls, you will inevitably add value to your home. When you walk into a room that has new floors and new molding, it sells itself. People looking to buy a new home often don't want to have to update or fix anything right after purchasing. By having everything done already , you can add real and perceived value to your sale price. Another great value add is that you can often claim depreciation on your taxes for home improvements that you invest in (always check with a professional CPA for details).

Ready To Get Your Baseboard Installed?
Whether you are getting new flooring, or just need your baseboard updated, Elizabethtown Flooring can help to upgrade your home's look and feel. Professionally installed baseboard not only bring a clean and finished look to any room, it also helps to add protection and increased temperature control. Our team of professionals are happy to answer any questions you have about the baseboard installation process, your options and more. Call or contact us today to get started. We not only service the greater Elizabethtown PA area, but we are happy to travel to surrounding areas as well.
---
Proudly serving Lancaster, York, and Lebanon counties with high-quality flooring options.