Elizabethtown Flooring – Located in Lancaster County
Design | Comfort | Solutions

Backsplash Bliss: Elevate Your Kitchen and Bathroom Design
In addition to our wide selection of flooring options, we also offer beautiful backsplashes that are perfect for adding a touch of elegance and functionality to your kitchen or bathroom. Our showroom features a range of stunning backsplash designs to choose from, and our on-staff designers are always available to help you make the perfect selection. With our commitment to exceptional customer service and attention to detail, you can trust us to deliver the beautiful, long-lasting flooring and backsplash solutions that you deserve.
Custom Backsplashes
Give any kitchen or bathroom an elegant and modern touch with a custom backsplash by Elizabethtown Flooring. Protect your water exposed walls and surfaces by adding an eye catching backsplash, and bring in a feeling of luxury and style. Renovate your kitchen, bathroom, laundry room, bbq area and more with our selection of high quality stones and materials like white subway tile, marble, quartz, stainless steel, glass tile and others. Tailor the design of your backsplash to fit any style and purpose. Whether you prefer an industrial chic kitchen style, or an opulent classic bathroom look, you are sure to find something in our catalog that fits just right. If you're looking for superior style and craftsmanship, add a custom backsplash to complete your kitchen and bathroom designs. See all that Elizabethtown has to offer!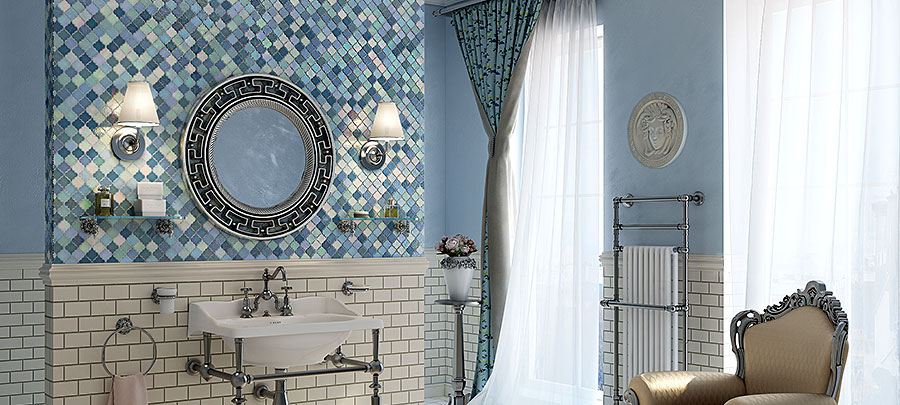 Backsplash Pattern Design
Adding a backsplash pattern to your kitchen or bath remodel instantly adds personality and style to any space. With offset brick, running bond, diagonal, herringbone and horizontal stack bond options available in almost every hue imaginable, we have a design that can express your individual sense of style. From subtle shades of white set with gray grout for an eye-catching graphic touch, to an offset brick pattern in bright blues for a modern coastal look, the possibilities are endless when it comes to creating a unique pattern for your project!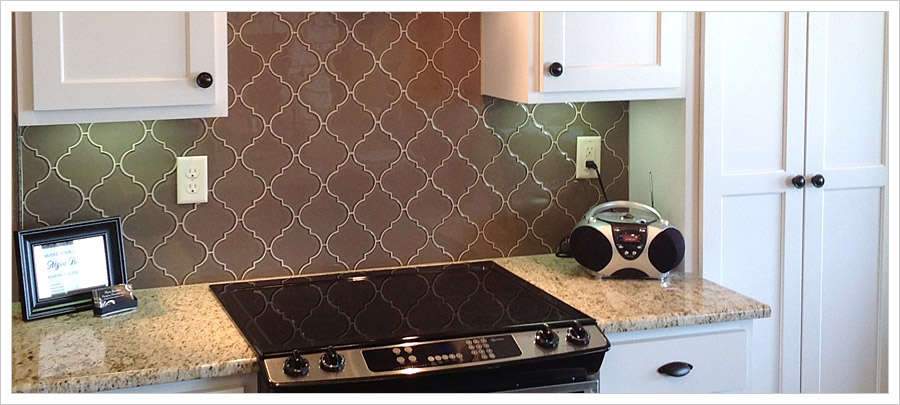 High Quality Backsplash Materials
Whether you're remodeling your kitchen or creating a new one from scratch, choosing the perfect backsplash for your space is an important decision. There are so many materials available to choose from that it can be overwhelming! Options range from subway tile, stainless steel, glass tile, stone, marble, copper, quartz and mosaic. Each offers its own unique look and functionality. Subway tile creates a classic and timeless aesthetic that never goes out of style. Stainless steel is sleek and modern, while glass tile adds a touch of glamor. Natural stone, marble and copper add a warm rustic note, while quartz provides a contemporary update. Choose a mosaic option to inject some fun colors into the room. Whichever material you opt for, make sure it pairs well with your countertops and cabinets to bring the whole kitchen decor together seamlessly. Our team of experts can help you choose the best materials for your unique project.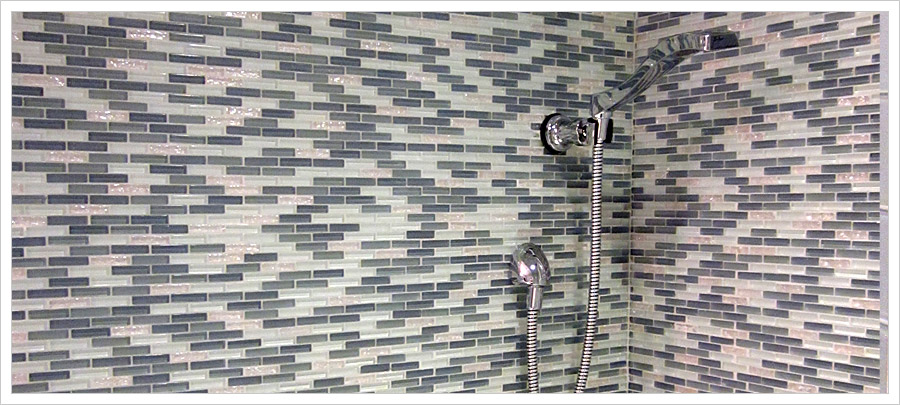 Benefits of Adding Backsplashes in your Home
There are numerous benefits to adding backsplashes to your home areas that are regularly exposed to moisture and water. Painted walls and framing wood are not designed to protect against water or moisture. If exposed they can warp, develop mold, disintegrate, or rot leaving you with major expenses and potential health hazards. By adding waterproofing backsplashes, you can improve the safety and appeal of your home. Furthermore, when you add backsplashes to your kitchen bathrooms and more, you will add value to your home due to added protection, and increased visual attraction.
The best part is that when done on existing areas, the work is fairly quick and minimally invasive. If done during construction, you will save time down the road and be able to plan everything at once. Trust a qualified installer for your project to ensure it is done right. Faulty backsplashes can let water and moisture in behind your tile or stone, and cause issues that are hard to see. By trusting Elizabethtown to install and supply your backsplash, you can be assured it is done properly the first time.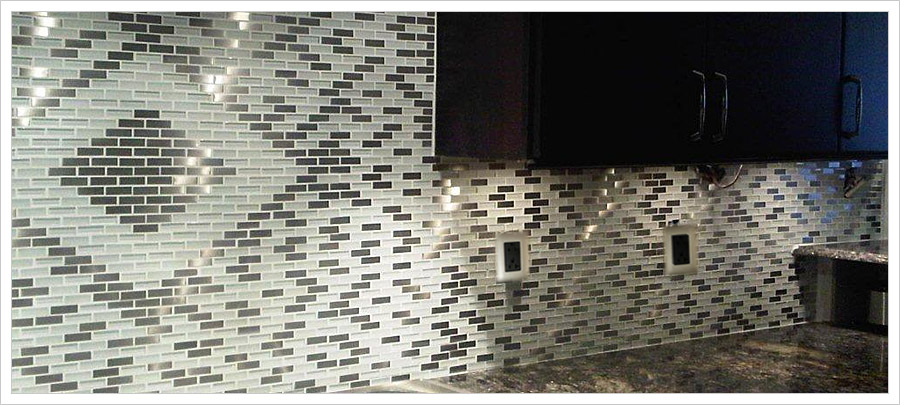 FAQs About Custom Backsplashes
How much does it cost to install a backsplash?
The cost to install a backsplash depends greatly on a number of factors including materials, area of installation, pre-existing surface and preparation needed, and more. To get an accurate cost estimate, contact us with your project details. 
What is a backsplash?
A backsplash is the area on the wall or vanity behind a wet area designed to deflect splashing water from the underlying wall or surface. It also helps to block out moisture, and gives a stylish look to any room. Other common backsplash applications besides the kitchen and bathroom are wet rooms or laundry rooms, bbq areas and outdoor kitchens, and behind appliances. Usually created using smaller tiles or stones for an easier application and better look. Generally speaking you will want to select a non-porous material so it is easy to clean and protect from bacteria.
Where should the backsplash tile end behind the stove?
To achieve the best aesthetic for your kitchen, look to create a natural stopping point with tile or trim edging. Creating an edge using bullnose tiles along walls, windows and cabinet areas will help define the perfect backsplash placement. There are no rules that say you can't get creative here, but generally speaking you will not want to draw attention to the transition between wall and backsplash.
What is the most popular backsplash for the kitchen?
One of the most popular backsplash materials used for kitchens is ceramic tile; more specifically white subway tile. Ceramic tile backsplashes are an excellent choice for a number of reasons. They're durable, waterproof, and come in a wide array of colors and design options to suit any kitchen style. Not only that, but they are also incredibly easy to clean and maintain. In addition to the other benefits mentioned, ceramic tile backsplashes offer a wide range of price options allowing you to get great results, even on a tighter budget when compared to other materials.
What color backsplash with white cabinets?
Adding a backsplash when you have white cabinets is a great way to tie your kitchen together and pull off the perfect design. There are many colors to choose from, but popular options for balancing out white cabinets are shades of gray, blues, green and slate colors. If you're looking for more of a classic feel, choosing cream-colored tiles or warm neutrals like beige or light brown will also go nicely with white cabinets. For a bolder look try pairing contrasting colors like black and white or even adding hints of brighter colors like yellow or red. Whatever color direction you decide to take, for your backsplash, it will come together perfectly with your white cabinets when installed professionally. A clean, well designed pattern goes a very long way on your backsplash area. While the color choice comes down to preference, the pattern you choose will make all the difference on how the color appears and ties the cabinets together.
Where to buy backsplash tile (where to buy tile for backsplash)?
When you are investing in your home, especially in the areas that you spend the most time in, you want to make sure you purchase high quality materials so they last years and look great. Elizabethtown Flooring has been providing quality materials for home remodels to the ETown, Philly, Hershey and Mount joy area for years. We make sure that you get all of your questions answered and even help you choose the design and materials that will best suit your home and personal needs. By purchasing your materials from a trustworthy family business like ETown Flooring, you can rest assured they will get you in great condition, on time. 

Ready To Get Your Backsplash?
Elizabethtown Flooring proudly serves the greater local area including Elizabethtown, Philadelphia, Mount Joy, and Hersey. If you would like to find out more and get an estimate for your project, contact us today! Our past Philly clients love how easy it is to access our resources and services. We make sure that no matter if you're in ETown, or the surrounding areas, you get the best quality customer care available.