Beautiful Area Rugs
Area rugs can add warmth, texture, and a whole new aesthetic to a room without the need for extensive installation, deconstruction, or renovation.
They also help protect original floors and add color accents throughout your home.
Listed are a few FAQs about area rugs but we welcome you to contact us with any questions you have.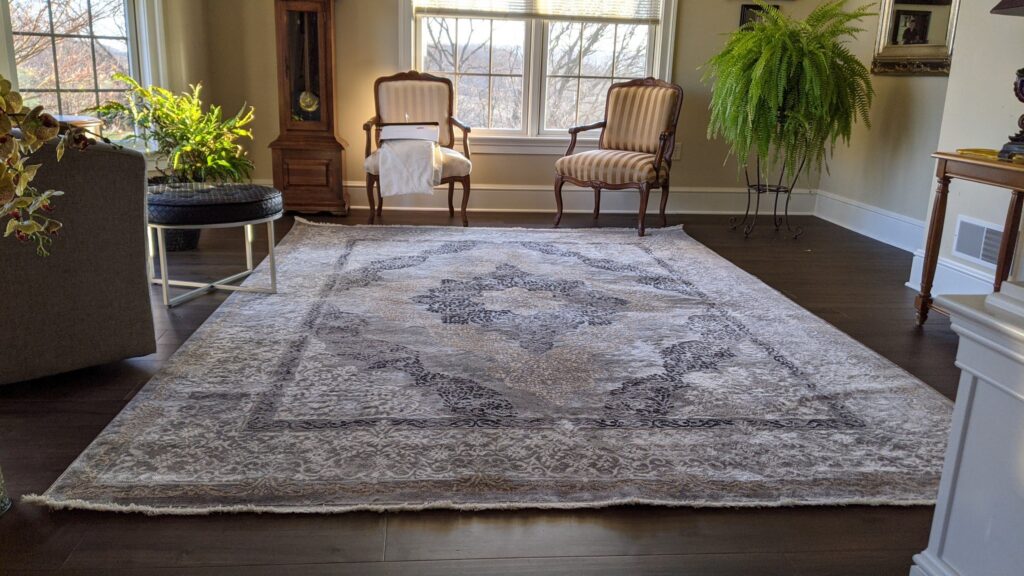 Spruce Up Your Home's Look
One of the greatest benefits to investing in area rugs is that you can easily change the look and feel of any room easily and affordably. Rugs and runners give you the opportunity to bring in bold colors and patterns that you may not want to commit to fully, but instead to enjoy for a few years. A new rug and runners can bring in a completely different style without needing to change your furniture, paint or decor. When new trends appear, such as a boho inspired aesthetic, you can simply layer a few Bohemian rugs in the room, and add some matching pillows and throw blankets. If you are going for a minimal spring clean look, grab a traditional rug and matching runners. For homes with a vacation vibe, grab some beach inspired striped rugs, and for a luxury feel go with a designer brand and print. There are endless options available when you shop Elizabethtown Flooring's impressive selection of high-quality area rugs.
Trusted & Popular Area Rug Brands
Elizabethtown Flooring offers an exquisite selection of area rugs and runners featuring renowned brands such as Oriental Weavers of America®, Colonial Mills®, Rhody Rug®, Anderson | Tuftex, Milliken, and Nourison. With Oriental Weavers of America®, customers can indulge in the rich heritage of Persian and Oriental rug designs, characterized by their intricate patterns and impeccable craftsmanship. Colonial Mills® brings forth a fusion of traditional and contemporary styles, offering rugs and runners that effortlessly enhance any space.
Rhody Rug® showcases their expertise in crafting durable and eco-friendly rugs, perfect for adding a touch of rustic charm to any room. Anderson | Tuftex exudes elegance and luxury, presenting premium quality rugs with exceptional materials and attention to detail. Milliken stands out with their innovative designs and commitment to sustainability, creating rugs that combine functionality and beauty. Lastly, Nourison brings a touch of opulence with their luxurious and versatile rug collections, featuring a wide range of styles to suit various tastes and preferences. With Elizabethtown Flooring's extensive array of area rugs and runners from these esteemed brands, customers can find the perfect complement to their home décor, adding warmth, comfort, and style to their living spaces.
What sizes do area rugs come in?
Area rugs come in all sizes, but the most common sizes are 8'X10' and 9 X12' to frame a room, 5'X7' to use as accent rugs throughout the home. Elizabethtown Flooring can customize your area rug to suit your needs. Call us to schedule an in-store or at-home appointment at your convenience. (717) 367-8744
How to choose area rugs?
Decide on the overall style of your home, or at least the style or vibe you hope to convey in the room that will feature your area rug: modern, rustic, boho, etc. Would you like a patterned rug or a solid color? Will the rug be the focus or only a complementary part of your interior design?
How to layer area rugs?
Area rugs are not just for placement over hardwood or tile flooring. They can be placed over carpet to better define a specific part of a room and to add dimension to the room's design. You can layer an area rug directly over the carpeting to create an "inward" frame, with the smaller rug parallel to the carpeting's layout. You could also place an area rug diagonal to the carpeting or over a larger area rug to add some contrast and visual appeal.
How to properly clean and maintain your area rug?
Proper cleaning and maintenance will add years to your area rugs. Timeliness can be your biggest weapon against damage to your rugs. As soon as an accident occurs, blot the spill and quickly clean it using a recommended solution. Your Elizabethtown Flooring sales representative can provide suggested cleaning supplies that best suit the area rug you choose.
How to prevent them from moving?
We offer custom area rug pads, custom cut and fit to size, with each purchase.
Rugs vs Carpet: Which Should I Choose?
While new carpet is always a wise investment for your home and comfort, choosing area rugs over getting new carpet offers several advantages that make it an appealing option for homeowners. First and foremost, area rugs provide a cost-effective solution for updating the look and feel of a room without the expense of replacing the entire carpet. They offer flexibility and versatility, allowing homeowners to easily change the style, color, or pattern of their floor covering to suit their evolving tastes and decor preferences. Area rugs also offer the opportunity to introduce texture, warmth, and visual interest to a space, serving as statement pieces or focal points. Furthermore, area rugs are easier to clean and maintain compared to wall-to-wall carpeting, as they can be easily removed for vacuuming or spot cleaning. Additionally, area rugs can be utilized to protect high-traffic areas or existing carpeting, extending the lifespan of the carpet underneath. You can place rugs over existing carpet as a temporary solution, and to try out different colors and styles before replacing carpet. Overall, choosing area rugs provides homeowners with a practical, affordable, and stylish solution for enhancing their living spaces.
Worldly Rug Styles & Designs
There are so many rug styles and designs to choose from when you are looking to reimagine and elevate your space. Here are the top 6 styles to consider when shopping for a new rug this year. You can stick with one style throughout, blending different colors and sizes, or you can mix and match different styles for a unique look.
Modern rugs: This refers to contemporary and trendy rug designs that feature sleek lines, bold patterns, and vibrant colors. 
Traditional rugs: Denotes rugs with classic designs, often inspired by various cultural and historical influences. 
Persian rugs: Specifically refers to rugs originating from Iran and renowned for their intricate patterns and high-quality craftsmanship.
Shag rugs: Pertains to rugs with a deep, plush pile that creates a soft and cozy texture, often used for a luxurious feel.
Wool rugs: Indicates rugs made primarily from natural wool fibers, known for their durability, softness, and ability to repel stains.
Geometric rugs: Describes rugs featuring geometric patterns such as squares, triangles, circles, or other shapes, offering a contemporary and visually appealing look.
Area Rug & Carpet Runner FAQs
How do I choose the right size area rug for my room?
Consider the dimensions of your room and furniture placement. Ideally, the rug should be large enough to anchor the furniture and create a cohesive visual effect.
What materials are best for area rugs?
Wool is a popular choice due to its durability and softness. Other options include synthetic fibers like nylon or polyester, which are often more affordable and easy to clean.
How do I clean and maintain an area rug?
Regular vacuuming is crucial to remove dirt and debris. Follow the manufacturer's instructions for cleaning spills and stains. A professional cleaning may be required for deep cleaning and restoration.
Can area rugs be used on top of carpeting?
Yes, area rugs can be placed on top of carpeting to add visual interest and define specific areas within a room.
How do I prevent area rugs from slipping on hard floors?
Rug pads or grippers can be used to keep area rugs in place on hard floors and prevent slipping.
Can area rugs be used in high-traffic areas?
Yes, but it's important to choose rugs that are specifically designed for high-traffic areas and are durable enough to withstand heavy use.
Can I use an area rug outdoors?
Yes, there are specially made outdoor rugs that are resistant to weather conditions and can be used on patios, porches, or outdoor living spaces.
How often should area rugs be replaced?
The lifespan of an area rug varies depending on its quality, usage, and maintenance. On average, a well-maintained high-quality rug can last for 5 to 15 years or more.
Are area rugs suitable for homes with pets?
Yes, area rugs can be pet-friendly. Choose rugs made of durable materials that are easy to vacuum, and consider designs that can better hide pet hair and stains.
How can I incorporate area rugs into different room styles?
Area rugs can be used to enhance various room styles. For a contemporary look, opt for bold patterns or geometric designs. Traditional rooms can benefit from Persian or Oriental rug styles. Experiment with colors, textures, and patterns to match your desired aesthetic.
AREA RUG BRANDS
Oriental Weavers of America® rugs
Colonial Mills® rugs
Dynamic Rugs®
Rhody Rug®
Anderson | Tuftex rugs
Milliken rugs
Nourison rugs