Beautiful Area Rugs
Area rugs can add warmth, texture, and a whole new aesthetic to a room without the need for extensive installation, deconstruction, or renovation.
They also help protect original floors and add color accents throughout your home.
Listed are a few FAQs about area rugs but we welcome you to contact us with any questions you have.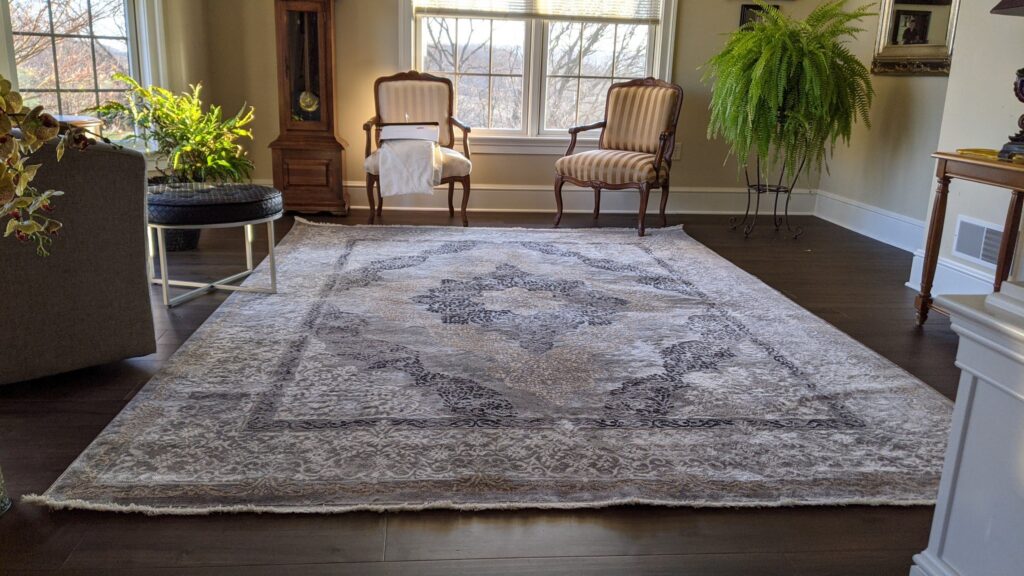 What sizes do area rugs come in?
Area rugs come in all sizes, but the most common sizes are 8'X10' and 9 X12' to frame a room, 5'X7' to use as accent rugs throughout the home. Elizabethtown Flooring can customize your area rug to suit your needs. Call us to schedule an in-store or at-home appointment at your convenience. (717) 367-8744
How to choose area rugs?
Decide on the overall style of your home, or at least the style or vibe you hope to convey in the room that will feature your area rug: modern, rustic, boho, etc. Would you like a patterned rug or a solid color? Will the rug be the focus or only a complementary part of your interior design?
How to layer area rugs?
Area rugs are not just for placement over hardwood or tile flooring. They can be placed over carpet to better define a specific part of a room and to add dimension to the room's design. You can layer an area rug directly over the carpeting to create an "inward" frame, with the smaller rug parallel to the carpeting's layout. You could also place an area rug diagonal to the carpeting or over a larger area rug to add some contrast and visual appeal.
How to properly clean and maintain your area rug?
Proper cleaning and maintenance will add years to your area rugs. Timeliness can be your biggest weapon against damage to your rugs. As soon as an accident occurs, blot the spill and quickly clean it using a recommended solution. Your Elizabethtown Flooring sales representative can provide suggested cleaning supplies that best suit the area rug you choose.
How to prevent them from moving?
We offer custom area rug pads, custom cut and fit to size, with each purchase.
AREA RUG BRANDS
Oriental Weavers of America® rugs
Colonial Mills® rugs
Dynamic Rugs®
Rhody Rug®
Anderson | Tuftex rugs
Milliken rugs
Nourison rugs