Paint and Paint Supplies
Rejuvenate your room with a fresh coat of paint!
While our designer is on site, we can help you choose the best colors for your project, or you can browse in store. Find trusted Benjamin Moore paint products: Regal Select Interior Paint (mid-grade), Aura Interior Paint (high-grade), and Ben Interior Paint (value grade).
Ben Paint, along with other popular paint products from Benjamin Moore, offers durable coatings that are easily applied and require less coats than other brands. Benjamin Moore paint is designed to last and retain its vibrancy while hiding common wall and ceiling imperfections.
We also sell Advance (for trim/cabinets/furniture), Aura paint for bath & spa (luxurious matte finish designed for high-humidity environments), Fresh Start High-Hiding All Purpose Primer, and Stix® Waterborne Bonding Primer.
As your one-stop-shop for paint and paint accessories, you'll get all the tools you need to get the job done right.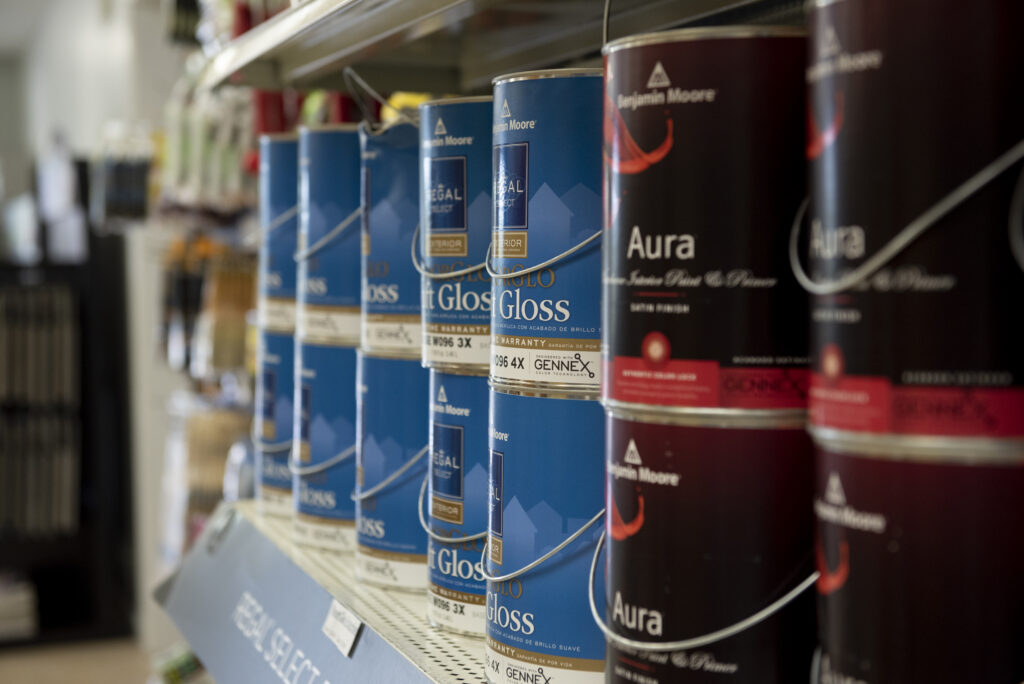 How to choose the best paint for interior rooms?
Choose colors that coordinate and compliment other colors throughout the home so that the interior design of the home flows seamlessly from one room to the next. We can supply Benjamin Moore color chips and paint samples to "test" your color choices on site. Lighting conditions can greatly impact the final appearance.
Our professionals can help you coordinate your paint selections with existing or planned flooring, window treatments, and other design elements so you create an impactful improvement that also enhances your home's interior.
What are the different paint finishes?
Benjamin Moore interior paints come in the following sheens: flat, matte, eggshell, low lustre, pearl/satin, semi-gloss/soft gloss, or gloss/high-gloss. Flat paints tend to forgive wall imperfections more than the other end of the spectrum, gloss paints. Conversely, gloss paints are more durable than the other end of the spectrum, flat paints.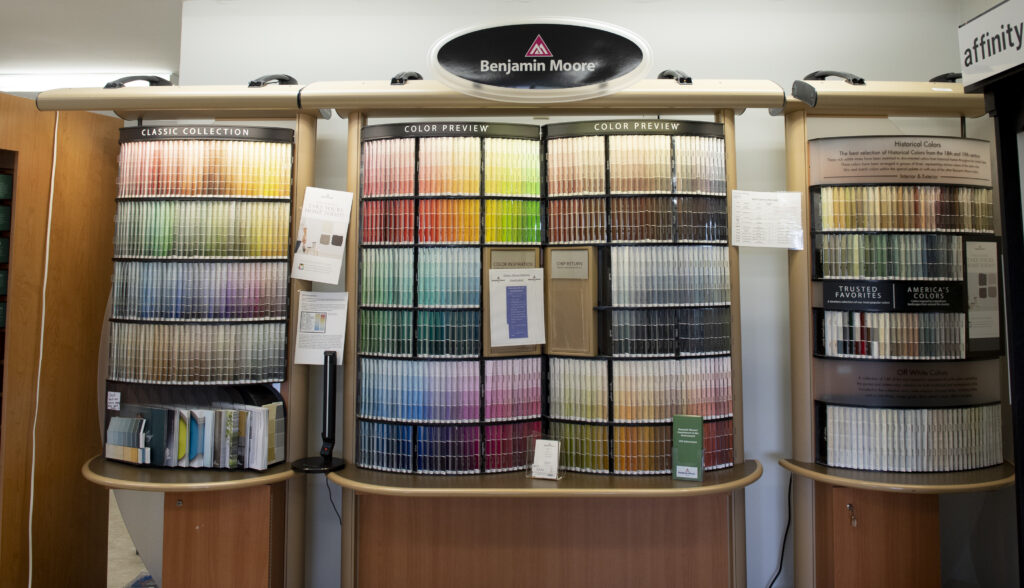 Common uses per interior paint finish:
Flat: ceilings, walls
Matte: walls, living rooms, dining rooms, bedrooms
Eggshell: any high-traffic, high-use rooms
Low Lustre: doors, trim, millwork
Pearl: any high-traffic, high-use rooms, cabinets, vanities, doors, trim, millwork
Gloss: trim, doors, millwork