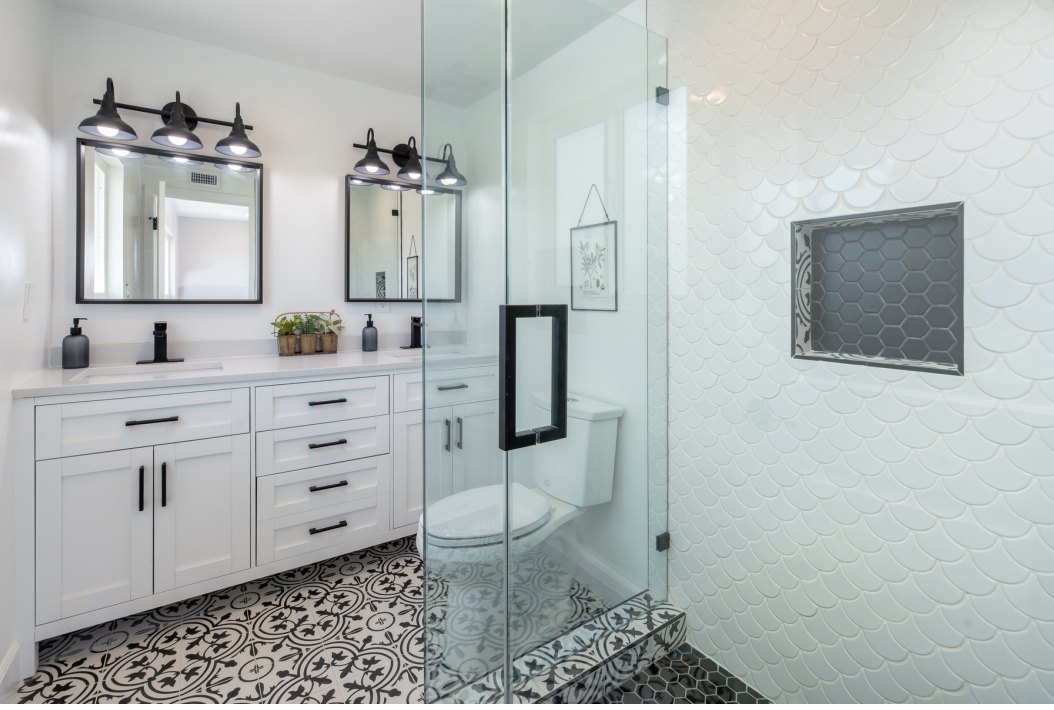 Bathroom Design 101
September 9, 2022
How to Remodel a Bathroom in 7 Steps
Remodeling a bathroom is a big project. There's a lot to consider for your bathroom design including the plumbing, flooring, vanities, sinks, hardware, paint and more. It's no wonder that people put off remodeling their bathroom for years! If you're thinking about giving your bathroom a makeover but don't know where to start, this blog post is for you. We'll walk you through the bathroom design process of how to remodel a bathroom in 7 steps so that you can have the bathroom of your dreams.
7 Steps to Remodel a Bathroom
1. Choose Your Design Style
The first step in any remodeling project is deciding on the overall design style of the space. Do you want a modern bathroom with sleek lines and minimal decoration? Or are you going for a more traditional look with tons of personality? Once you've decided on the general feel of the space, it will be much easier to choose specific elements like fixtures, tile, and flooring. Not sure what style you want? Check out some inspiration in our online design magazine. 
2. Set a Budget
After you've decided on a design style, it's time to start thinking about how much money you're willing to spend on the project. Creating a budget will help ensure that you don't overspend or run out of money halfway through your bathroom remodel. When setting up your budget, be sure to factor in both the cost of materials and the cost of labor (if you're planning on hiring someone to help with the project). Elizabethtown Flooring offers materials and services to fit all budgets so everyone can have a beautiful bathroom, and we even offer financing!
3. Demolition & Plumbing
If you're starting from scratch with your bathroom remodel, the first thing you'll need to do is demo existing features like toilets, sinks, tubs, showers, floors and vanities. This is the time to re-route any plumbing if necessary or change your bathroom design layout. Once everything has been removed from the room, it's time to start putting things back in!
4. Install Flooring & Fixtures
Now that all of the plumbing is where you want it and the tub and or shower is in place, it's time to install fixtures like sinks, toilets, showers, and vanities. Depending on the type of flooring and fixtures you choose, you may need to install your new flooring first to go under the toilet and vanity (consult with a professional). If you aren't moving or replacing the toilet or vanity, then you can floor around it to save time and hassle, but if you decide to replace them later, you will have to redo your floor so plan accordingly.
5. Hang Drywall & Paint
After all of the fixtures are installed and the floors are down, it's time to put up drywall, then paint or wallpaper over it. You can either do this yourself or hire someone to do it for you—just be sure that everything is smooth and even before moving on to Step 6. Oh, and of course make sure to cover that beautiful new floor before finishing your walls!
6. Install Tile & Cabinetry
Finally, it's time for finishing touches like decorative tile work and additional cabinetry. If you're doing tile work yourself, be sure to take your time and get things just right—you don't want any gaps or uneven lines! For cabinets, there are tons of great options available pre-fabricated from companies like Ikea or Home Depot. If you prefer to get the perfect fitting piece, you can always go for custom cabinets made specifically for your space.
7. Accessorize & Enjoy!
The last step in any remodeling project is accessorizing—and this is where things really start to come together into a cohesive space that reflects your personal style. Choose fun hardware for your cabinets or fun towels and rugs for your bathroom—whatever makes YOU happy! And once everything is in place…enjoy! You deserve it after all of that hard work! Conclusion: We hope this post has inspired you to tackle that bathroom remodel you've been putting off for years! Just remember—take your time, stay within budget (or splurge on those gorgeous custom cabinets), and have fun with it! After all, this is YOUR new bathroom—make it perfect for YOU!
Bathroom Design Final Thoughts
We hope this article has helped to inform and inspire you on how to remodel a bathroom as a DIY project or with help. While we applaud our DIY friends brave enough to remodel a bathroom on their own, there is no shame in getting help. Remodeling a bathroom is a big task, and Elizabethtown Flooring has everything you need to get a quick and easy new bathroom including flooring, vanities, paint, fixtures and more. Speak to one of our professionals today to find out more and check that bathroom remodel off of your "to do" list!
Related Articles