7 Types of Flooring for Your House
August 10, 2022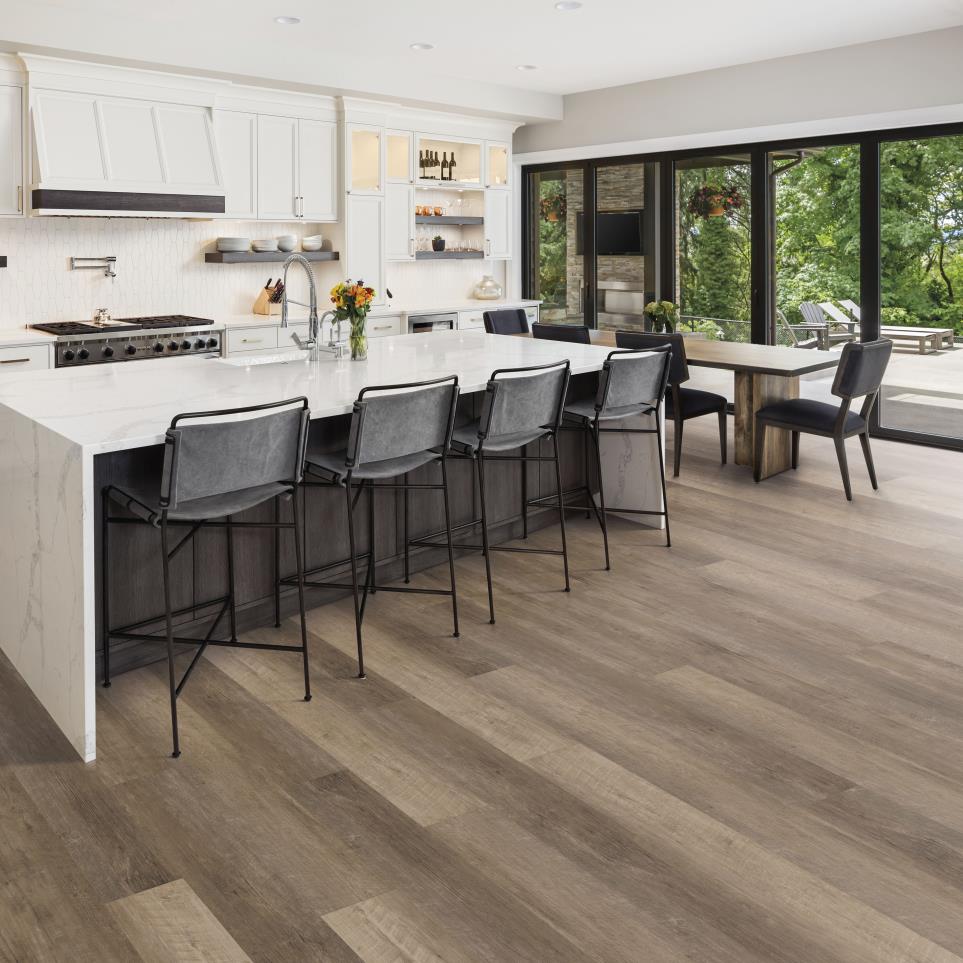 Best Flooring Options
Deciding on what types of flooring to install in your house can be overwhelming! With options like wood, vinyl, laminate, carpet and ceramic tile, you will want to consider several factors when making your choice. First, consider what rooms you are flooring. You may want to keep it consistent throughout the entire house, or you may want to mix it up. You might want to install carpet in the bedrooms and living room, and install wood or tile in the kitchen and bathrooms. Today we will share the top 7 types of flooring for your house, and share the best flooring options for each room and purpose.
.
Top 7 Types of Flooring for Your House
When it comes to choosing your flooring type, there are really no wrong choices. That being said, there are different flooring options that make more sense than others depending on use, room type, how much traffic they get, and style. Budget and region can play a role in making the best flooring decision as well. If you live somewhere that is dusty like the desert, or somewhere that it rains a lot, you should probably opt for a more easy to clean flooring option like tile or wood as opposed to carpet. If you have kids and or pets, then carpet can add a more comfortable "homey" feel, but you'll want to choose a color that doesn't show dirt easily.
Let's start by looking at the top 7 types of flooring you should consider for your home.
Carpet – Professional carpet installation can instantly add warmth to any room and carpet flooring options are numerous, available in many styles, colors, and types. From cut-loop to shag, to hypoallergenic. Not only do you have an abundance of color options, you also can select from different materials depending on your home and family needs.
Carpet Tiles – Carpet floor tiles can be easily installed, lifted, and moved and may be a more cost-effective choice compared to wall-to-wall carpeting. Because they are installed in units, damaged areas can be easily replaced with spot repair. There are many color options for carpet tiles and while wall-to-wall carpeting is most luxurious, carpet tile flooring does offer durability, design flexibility, and lasting comfort.
Ceramic Tiles – Ceramic tile flooring is a great choice for high-traffic areas of the home because it is resistant to dents and scratches, and it can be easily cleaned. Ceramic is an especially good choice for homes with pets. At Elizabethtown Flooring we carry an expansive selection of family-friendly, durable, waterproof ceramic tiles. We also carry tile for heated floor plans.
Eco & Green Flooring – Forbo Marmoleum is made from 97% natural raw materials and is the world's leading sustainable resilient flooring option. It's easily installed and requires less maintenance than many other flooring options. All Forbo Flooring products, including vinyl and Flotex, are made from recycled content with sustainability in mind. Eco & Green flooring options are also known and loved for their low-VOC level and because they create no impact on the ozone layer. Many eco flooring options are also naturally resistant to abrasion making them ideal in high-traffic areas.
Hardwood – Easily maintained and long lasting durability. Hardwood flooring varieties are suitable for pets, performance, high traffic, and can meet your waterproof hardwood flooring needs. Choose from various grain styles and various woods like ash, hickory, oak, pine, and more. Installation should be done by professionals as leveling, preparing and installing is very precise in order to ensure lasting quality. Use of hardwood flooring can be traced back to the 1600s. It provides a classic look that will hold up with the times no matter what style of home you have.
Luxury Vinyl Tile and Plank Flooring – Luxury vinyl tile (LVT) flooring is a beautiful combination of attractive, durable, easily maintained flooring. It mimics the look of natural materials such as stone or ceramic but generally costs less. Luxury vinyl tile and plank flooring consists of multiple layers topped with a protective layer that is resistant to stains, scratches, and fading. If you're seeking waterproof flooring or pet-proof flooring (pet-friendly), consider luxury vinyl tile flooring and installation.
Vinyl & Resilient Sheet Flooring – Sheet vinyl flooring is a popular choice for the value-minded consumer looking for waterproof flooring for their kitchen or bath. Resilient vinyl flooring is a bit softer in texture than luxury vinyl plank flooring and provides comfort underfoot. Resilient vinyl from Elizabethtown Flooring is an especially viable option for providing beautiful and durable flooring in rental units or when vinyl flooring installation is planned for numerous rooms.
Best Flooring Options for Each Room
Now that you know the top 7 types of flooring you can select from, let's take a look at which is the best flooring option for you and your home. As we mentioned earlier, selecting your flooring depends on several factors including room and uses, look and style, budget, and region. Most people already have an idea of what they can/want to spend, which means the budget is somewhat pre-determined. So to help you find the best flooring option for your home, we will focus on room type and uses and style. Again, there are no set rules to what flooring you can put where. The possibilities are endless! This is just a guide to help you understand your options along with our recommendations to get the most from your new flooring.
Kitchen – I think we can all agree that carpet does not belong in the kitchen! We do however recommend adding some stylish area rugs to your new kitchen floor for a finished look. If you like to cook and often have company then you will want to pick a floor that is durable, easy to clean and that feels good under your feet. LVT (luxury Vinyl Tiles) and LVP (luxury vinyl plank) flooring are a great option for a natural look that can be continued into the dining room or living room. If you are going with carpet in the connecting room, then you may consider ceramic tile too. Often when reflooring a larger area you will want to use the same material throughout for a cohesive look and to avoid flooring transitions. If you're working with a smaller budget, you can obtain a similar look and durability by opting for vinyl sheet and resilient flooring.
Dining Room – As mentioned in the kitchen section above, most people like to keep a cohesive look and feel between kitchens and dining rooms. This makes it easy to decorate, clean, and plan. Since most people use the dining room often and for eating, you will want to avoid carpet here for the most part if possible. Tile can be a great option if the style of the 2 rooms is suited for it, just remember you will have grout to keep clean. This is one reason that the trends have been moving towards LVT & LVP flooring for the last few years in kitchens and dining rooms.
Living Room – Choosing flooring for the living room should be based on your personal needs and preference. We see many people still opting for carpet in the living room to keep a cozier look and feel, but we also have many clients that choose to continue the flooring from the kitchen and dining room. Consider your family's uses and needs. Do you have kids and or pets? If so, make sure to select a carpet or flooring that is durable and easy to keep clean. There are no wrong options, but you will want to think long term here. If you are looking to sell your house, then you may select a less expensive option like a moderate priced carpet or carpet tiles. If you plan on staying for many years, it might be worth investing more money into a lasting wood floor throughout your entire house.
Bathrooms – Here is another place that you will want to avoid carpet at all costs! Adding rugs will provide a feeling of comfort in the bathrooms, but you will want something that is waterproof and durable such as many of our eco & green flooring options. If you have selected to use vinyl flooring or ceramic, then it can easily be continued into the bathrooms as well. Since the bathrooms are typically a smaller area of flooring, you will want to plan those to match the rest of your house, instead of the other way around. Many people do opt to use ceramic tile in the bathroom even if they don't have it anywhere else in the house because there are some really unique looks and styles available. Many ceramic tiles come in at a higher cost which is why they are good for small areas like the bathroom. If your bathroom leads into a bedroom, consider what type of flooring you will use in the bedroom when making your bathroom flooring decision so they match and transition well into each other.
Bedrooms – Lastly we will look at bedroom flooring options. Traditionally carpet has been used in the bedroom no matter what flooring is used elsewhere. This is because it adds a different level of comfort in an area you rarely wear shoes. It provides a feeling of relaxation and also helps to reduce noise. Carpet is still a great choice for your bedrooms and especially if you had carpet before and are replacing it. If you are ready to move away from carpet in the bedrooms, you will want to consider the flooring in your other rooms. If you have LVT or LVP you should continue it into the bedrooms for a great look and cohesion. Some flooring can be carried through rooms with no break, and others will need breaks in doorways to provide space for natural movement. If you have a preference on this, speak to a professional for more details.
Other factors to consider when selecting your new types of flooring are region and subfloor. There are ways to save money depending on the type of floor that will be removed and replaced as well as working with what is underneath your old flooring.
These topics are beyond the scope of this article, but our team of professionals at Elizabethtown Flooring are happy to answer all of your flooring questions and concerns. Give us a call today at 1(717) 367-8744 to find out what flooring is best for your home. You can also contact us here.
Choosing new flooring can be an exciting and rewarding experience. We hope this article has helped you understand your options better and given you some ideas for your flooring project.
Related Articles