Benjamin Moore Paint Colors of the Year — 2022
June 29, 2022
October Mist 1495, a gently shaded sage that quietly anchors a space while encouraging individual expression through color, is the Benjamin Moore Color of the Year 2022!
This subtle color is harmonious with so many other accent colors and takes over the spotlight from a teal blue that ruled the color of the year honors during 2021.
It seems to signify a welcome peacefulness or quietness in a world that has seen more than its share of upheaval and uncertainty in the past few years.
You can view the October Mist 1495 along with the 14 other hues in the Color Trends 2022 palette via Moore's YouTube video, Benjamin Moore Paint 2022 Color Trends.
This also provides ideas for how the colors can be used in various room settings. The Color Trends 2022 palette features a range of supporting colors in the same vein – calm and subdued – that inspire unique combinations for any paint project.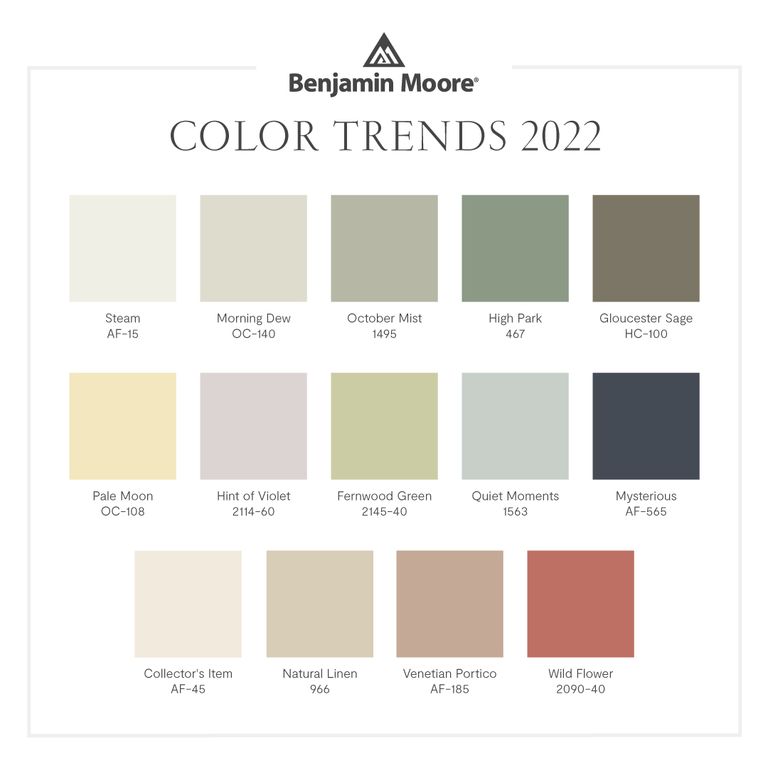 For an even richer look, you may want to check out the Benjamin Moore Aura paint line, a premium product that features Moore's proprietary Color Lock® technology, ensuring long-lasting color and no color rub-off. Users have praised its unparalleled color depth and richness that provides a smooth, uniform color, with no intense chemical smell.
If budgetary concerns are at the top of your list, look at the Benjamin Moore Regal Select paint line, an intermediately priced line, or at the Benjamin Moore Ben paint line, which is the budget line. With all of the options available, it is important to seek out the advice of the professionals, and you will find that kind of knowledge and expertise from the professionals at Etown Flooring.
How the Colors Are Selected
You may wonder how the color of the year is selected. At Benjamin Moore Paint, this process involves a yearlong exploration into design, art, fashion, cultural and environmental influences around the world.
The team looks at design influences like furniture, lighting, fabrics, home accessories, and more –and then considers the relationship that paint and color has to each of them. Additional inspiration comes from art, and viewing art to see color and color pairings in a fresh, new light.
Fashion is always changing, and its impact on color provides a snapshot of the moment. Natural landscapes are an additional factor, along with contemporary culture.
The Benjamin Moore Paint team that develops these trends is quick to point out that they should be used not necessarily as absolutes, but as a points of inspiration to bring color into your home in new ways.
To make it easy to see how these colors can impact your rooms, you can download the Benjamin Moore Color Portfolio ® Mobile App to apply paint color to photos of your space, access fan decks, and match favorite hues.
If you are looking for where to buy Benjamin Moore paint, look no further than Etown Flooring. You can always count on the professionals at Etown Flooring to assist you with color matching and color choices, along with all of your flooring needs. Contact us for more details on how we can help you find the right colors to brighten your home.
Related Articles